This guide applies to all versions of SHOTPlus.
This error occurs if your PC name or computer network (domain) name changes while SHOTPlus is installed.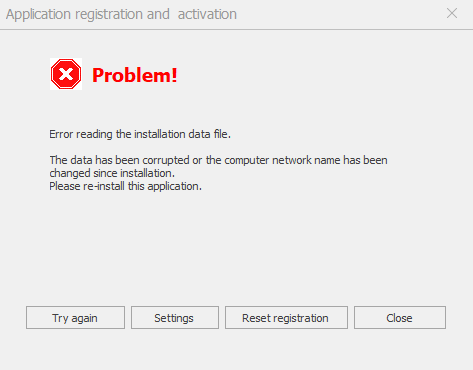 Please follow the steps below to resolve this problem:
Uninstall SHOTPlus from your PC.

Go to Settings on your PC (press the Start key on the TaskBar and select Settings).

Select Apps
Scroll down and select your installed version of SHOTPlus, select Uninstall
Follow the prompts to uninstall SHOTPlus.
When SHOTPlus has finished uninstalling, delete the Protection folder from C:\ProgramData\Orica

Open Windows File Explorer. Select the View Tab and ensure Hidden Items is selected.
Go to C: Drive, ProgramData, Orica. You will see a folder called Protection. Delete this folder and all of its contents.

Download the latest version of SHOTPlus.

Go to the BlastIQ Help Centre's software downloads page and download the latest version of the SHOTPlus application you require.

Reinstall SHOTPlus.

Open the downloaded SHOTPlus installer and follow the prompts to install and activate SHOTPlus.
Please raise a support request with BlastIQ Support if you require further assistance. You can submit a request by selecting the Submit A Request button at the top of this page.