Reporting in SHOTPlus Underground can be categorised into 3 groups – Data reports, EBS reports and plans. The reports reference data from the blast file header, blast properties/setting and loading design.
Plan printing.
Plan printing is designed to get a capture of the current view on the design screen. It is found by using the toolbar shortcut or by File - Print - Print plan.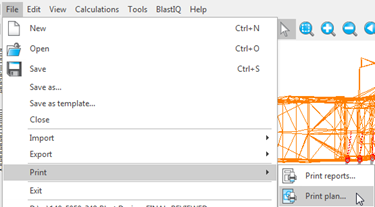 You can now select your settings for the print. The default orientation for the paper is landscape. You may edit the logos and title block with the bottom left buttons.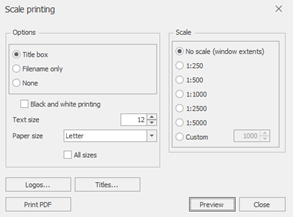 Data reporting.
The data reports consist of the following 12 default reports.
General information relating to the design that will be used in the header fields should be entered in the Blast Properties and the Blast Outcomes sections.
Blast properties.
Edit – Edit Blast properties – Blast header information.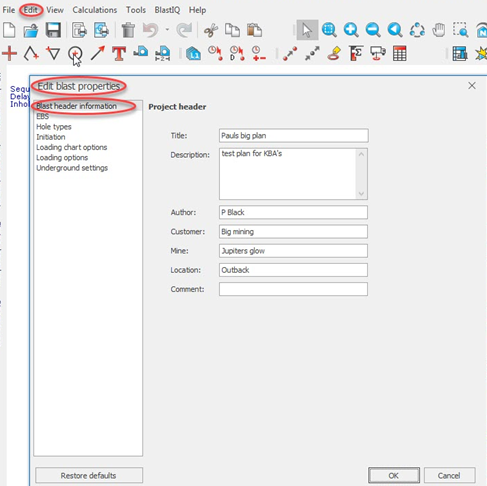 Blast outcome summary.
Edit – Blast outcomes. Enter relevant information regarding the purchase order, pattern design, powder factor, Maximum Instantaneous Charge (MIC) and firing times.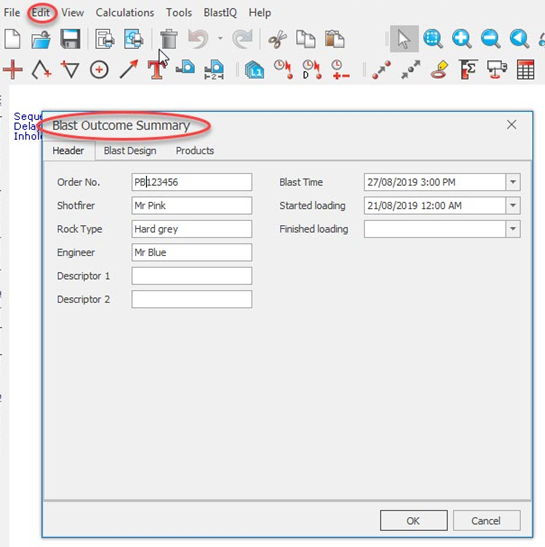 Print Rings.
A useful function in ShotPlus Underground is the print rings function. This prints just the ring section views as seen in the ring manager. Go to File - Print - Print rings.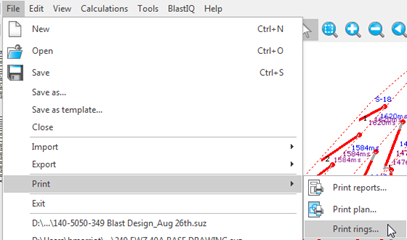 A title block or logos can be added to this printout also.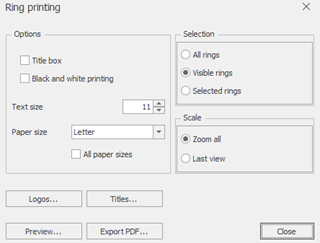 Printing Reports
Once your printing header and settings have been chosen, you can now proceed to create reports.
Either go to File - Print - Print Reports or click on the Print Reports icon in your toolbar.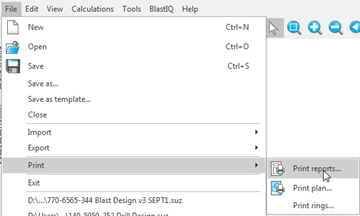 Here you will see the list of default created reports. To see the report, check the box on the left-hand side of the report. Next, decide which holes in your file you want to be part of the report by using the filter on the right (All/Visible/Selected). Now click on preview to give you your report. See below for some of the report examples.

Quantity Summary.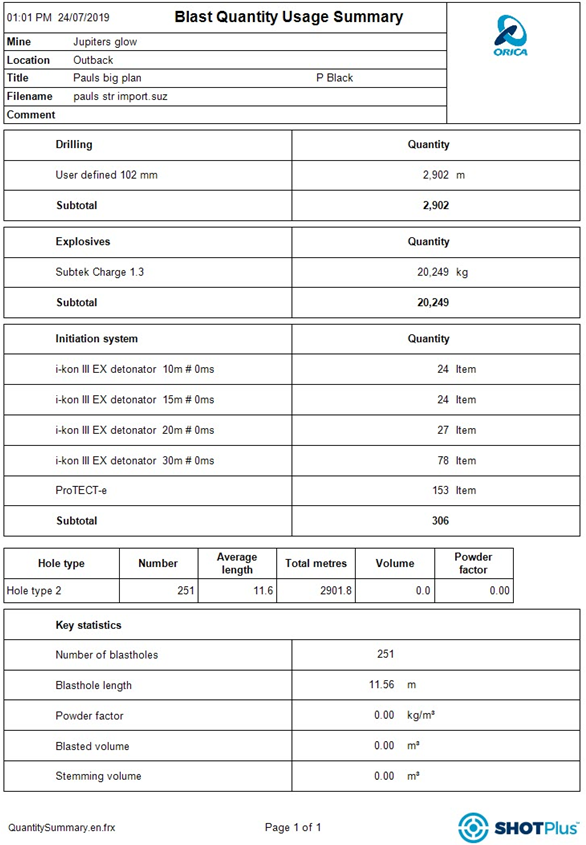 Product usage.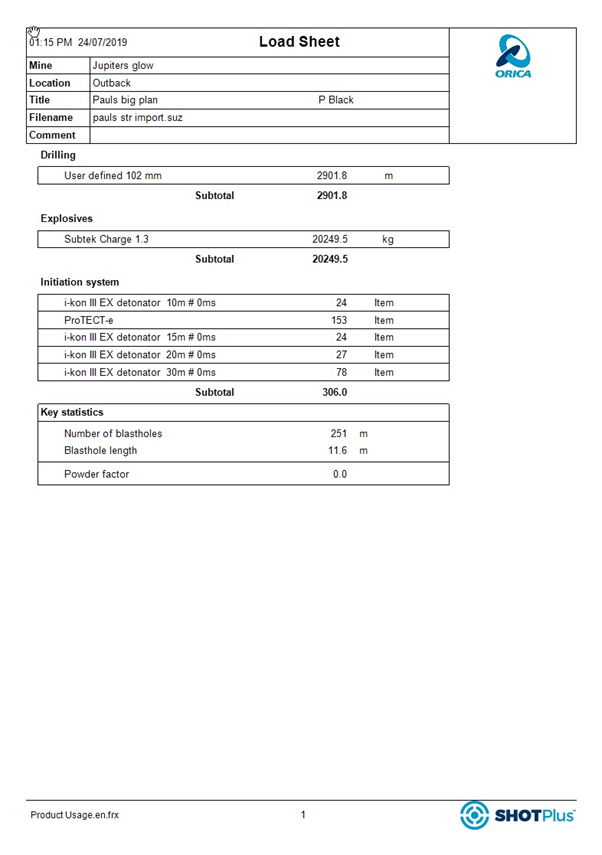 All Hole Loading.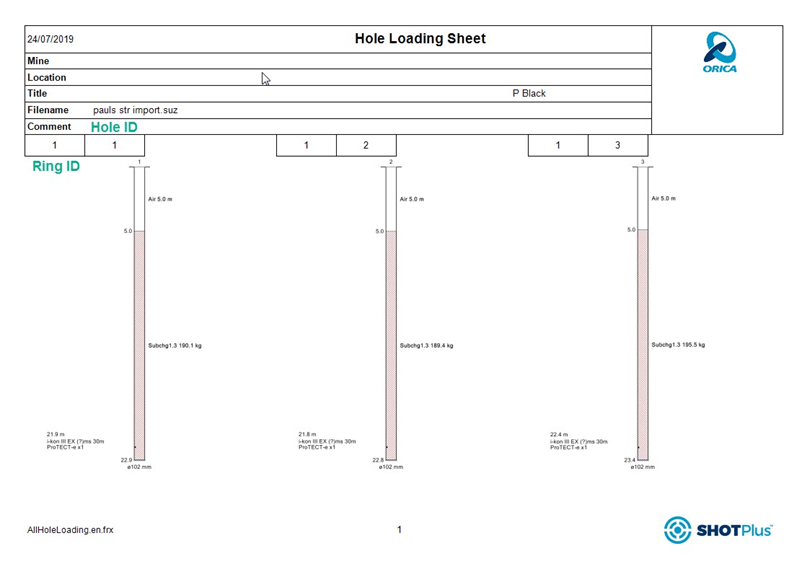 Ring diagram landscape format.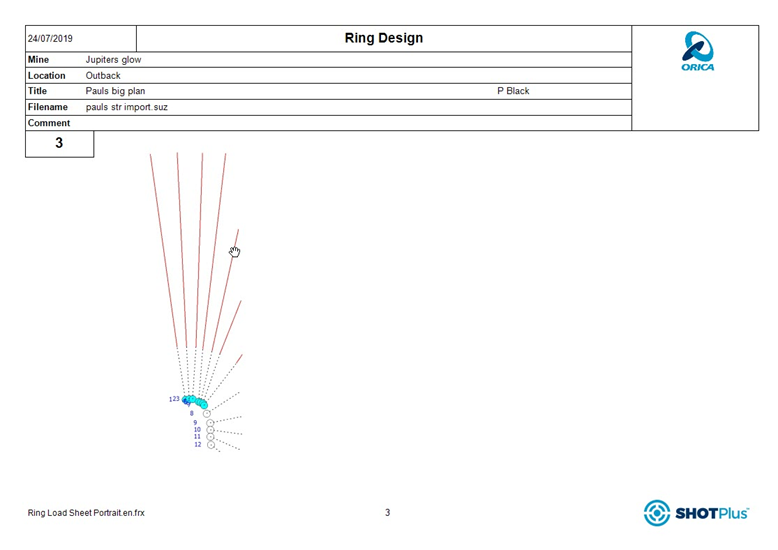 Ring diagram Portrait format.

Ring view load sheet.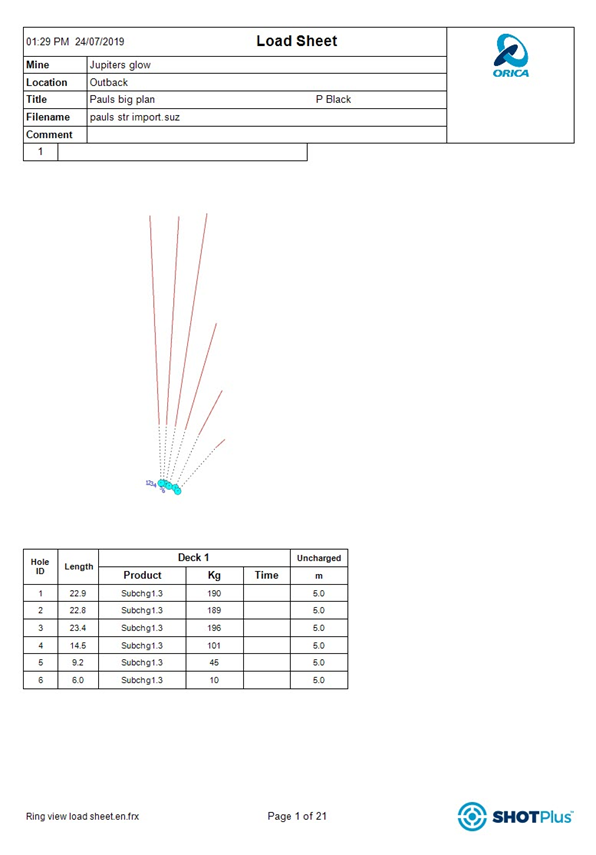 Ring views & Hole diagrams.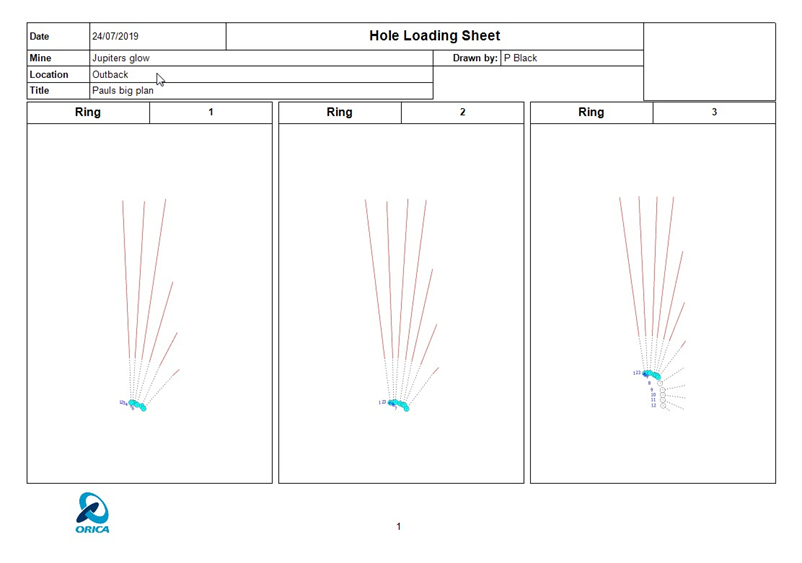 Double – Deck Ring loading sheet.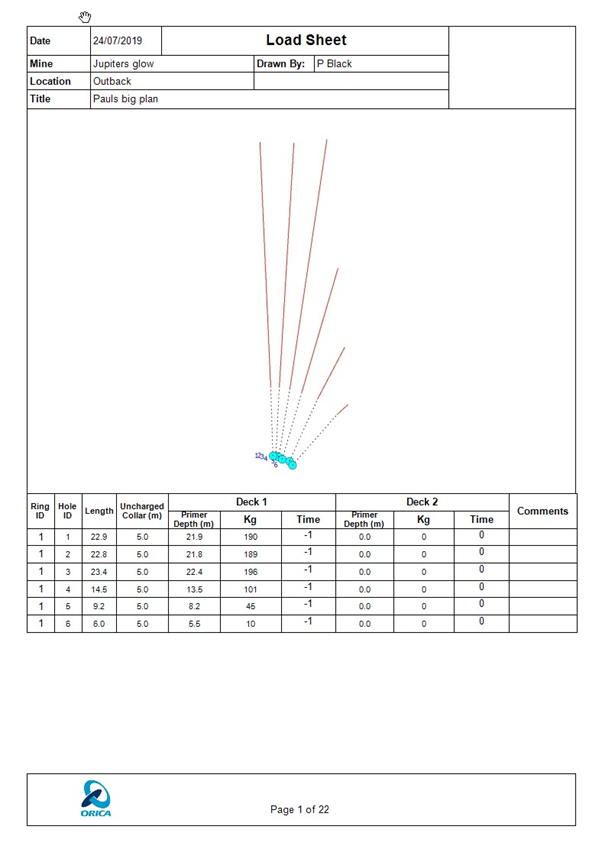 Single – Deck ring loading sheet.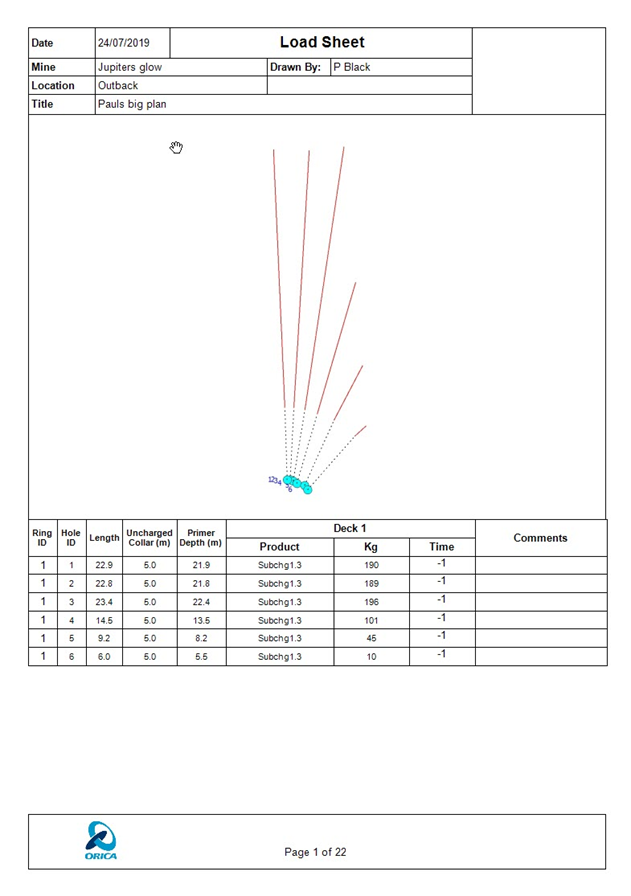 Blast Summary.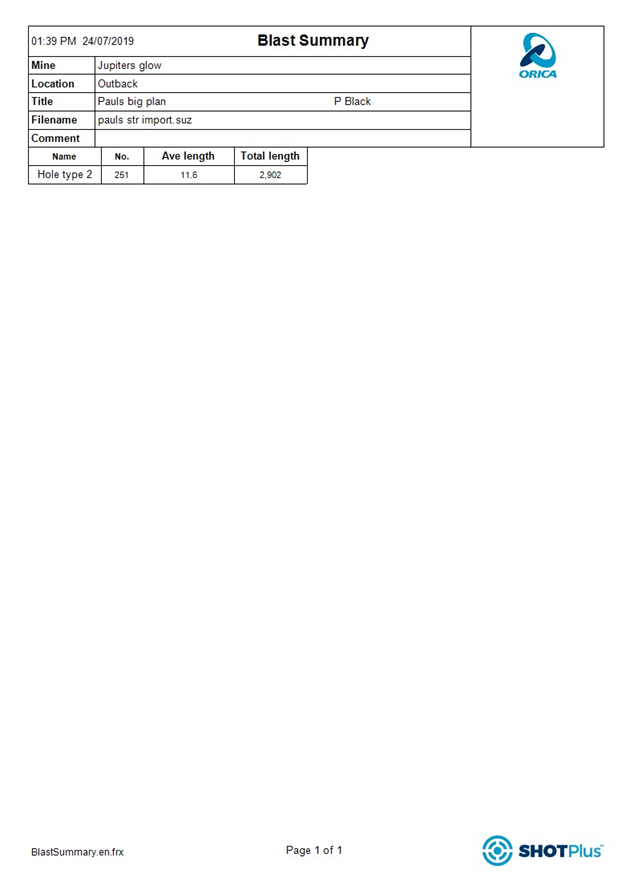 Load sheet.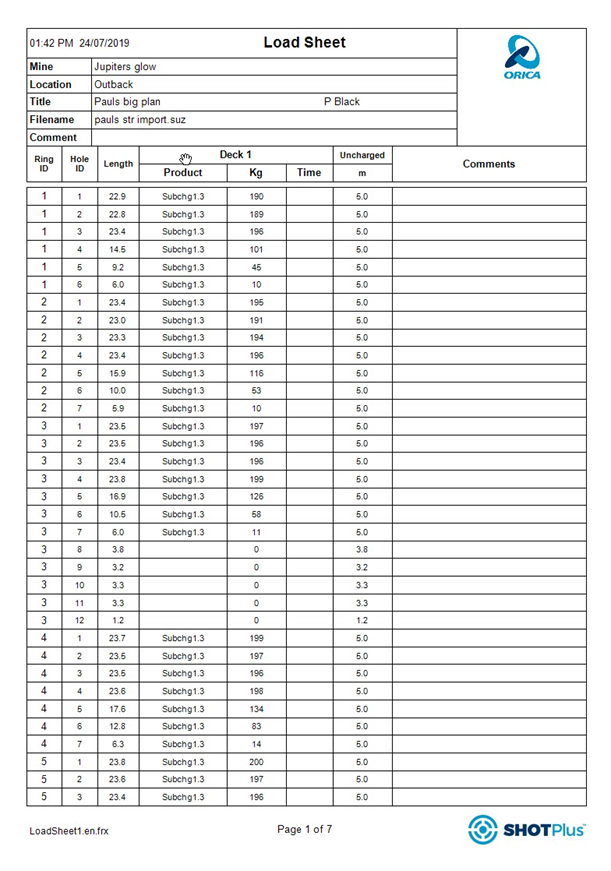 Ringsloadsheet.
EBS Reports.
EBS reports can be found in Calculations – EBS field report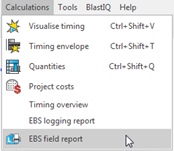 The EBS reports show up after you have re-uploaded data from Loggers.
EBS Field report – Logger record sheet.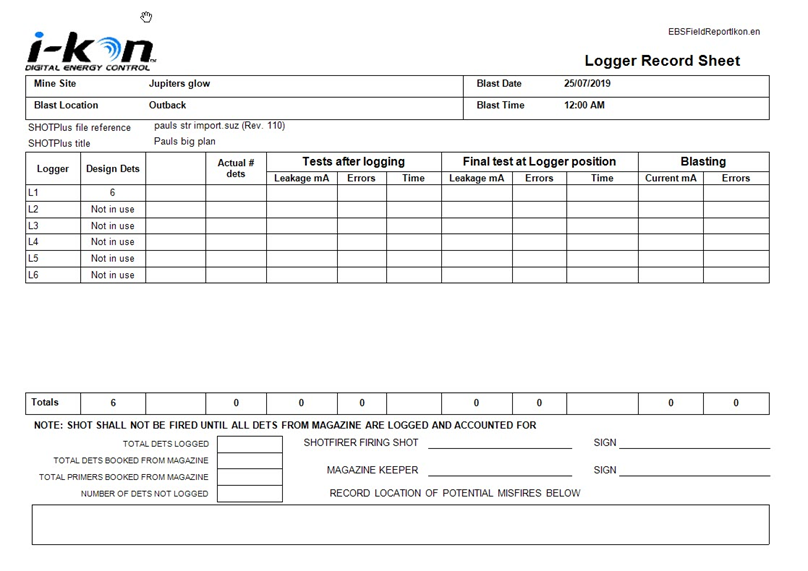 EBS Logging report.